Execute Your Small Business Plan
for Business Success
Definition of a Business Plan
What is a business plan? Why do you need a small business plan to succeed in business? Understand the definition of a business plan to learn how to write business plan. It sounds obvious but it's most important to focus your business plan layout on the direction you want to go; then put performance measures in place to ensure that you are on-track and make corrections or changes as necessary.
Search This Site
Custom Search
Telling business owners that they must write their small business plan to enable their success is usually met with very little enthusiasm by business owners.
In other words, planning is probably on most small business owners' least favorite things to-do list.
This is likely because most small business owners are do-ers, not planners.
However, planning, in all its forms, is an integral part of an organization's success and it must be done.
But it can be done in smaller pieces. A thorough plan will include many elements of the overall business and the strategies to run it.
---
What is a Business Plan?
Definition of a Business Plan.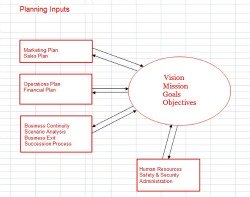 Some parts of the business plan need to be done first: the operations, sales, marketing, financial, and human resources sections must be done before other elements, such as succession or exit planning.
The plan is a summary of operations and financials; it contains activities, tactics and strategies (for example, marketing plan, workforce plan, market research plan, etc.) for achieving your operation's objectives and goals.
---
Planning includes Defining,
Analyzing, Researching and Writing:
The business plan is really a compilation of a number of plans that include:
Operations

The small business plan (and growing that plan into a strategic business plan) is the foundation of the overall plan.
It needs to include all functional areas (operations, marketing and sales, financial and administration, and resources). For example, a key function that needs a detailed business operations plan is the operations function.
Within those functional areas, there are also a number of other business functions that need planning and implementation efforts. And, for startups, a new business plan, which is different than writing a business plan for an existing business.
This long list of plans to write can be overwhelming. So, use a business plan outline to start with a small, targeted and reasonable approach; and once you're comfortable with that, develop your plan to cover the more challenging areas. Remember that planning is important but equally important is acting on the plan; and improving and adapting it as your market and your business changes.
---
How to Write Business Plan:
Write your small business plan as an expandable document. Ensure that your plan includes clear goals and objectives and how you will achieve them. Add other sections as you have time and/or as you need to (to manage your operation).
If you asked business owners for a definition of a business plan, you would likely get a variety of responses. There really is no one answer; however from your organization's perspective think about your small business plan as a road map that directs you in the direction you plan to go.
Following a simple business plan outline will result in a plan of about 12 pages. Creating a more comprehensive plan that focuses on strategic marketing plan elements, or strategic consideration of a small business startup, or a new product introduction, or a merger (or a number of other specific directions and/or challenges) will take more time and effort but will help you to focus on managing your business.
The common reaction once your business plan is written is to congratulate yourself on a job well done and completed and file the plan away!
However, a plan is most effective when you build measurement into the forecasts or budgets. To do that you can use software programs that are easy to manage and that provide solid analysis functions. For example, use performance management software to help you forecast and integrate your business budget, goals, and more. When you track your results to your forecast in a timely manner, you will be better able to plan the actions you need to take to reach, and surpass, your goals.
---
What is a Business Plan? Use It Once It's Completed!
Do not let your plan become a dust collector.

Use it. Build your key performance indicators (to measure business performance) and then assess your progress against your plan or plans.

Share it with employees. Build the goals and objectives into their performance evaluations.

Share a limited amount of information from your plan with your customers (for example, like how your organization is being designed and developed to become customer centric; only do this if you are truly committed and have begun to make some progress that you can point to).

Share a limited amount of information from your plan with your suppliers (for example, like how you're looking for the most environmentally friendly supplies available and how you're willing to reduce your number of suppliers if you can increase the amount of environmental supplies from one source).
---
Build Regular Reviews into your Small Business Plan
Once you've developed your plan, ensure that you update it at least once a year (more often if you work in a quickly changing environment). Then begin to add some of the other plans listed above and fold them into your overall business plan.
Planning is important to your operation because what you plan, you can manage. Unplanned events, or surprises, are often not happy occurrences and will require you to shift your focus from running your small business to putting out fires.
More-For-Small-Business Newsletter:
For more timely and regular monthly information on managing your small business,
please subscribe here.
Return from Small Business Plan to More for Small Business Home Page.