Define Market Share: Part 1
Then conduct a Marketing SWOT Analysis
Define market share, and the share of the market that your business has (and wants) as part of your planning process. The next steps in building your marketing plan include: conducting a marketing SWOT analysis, defining the marketing mix, segmenting and targeting your market, building an action plan (with measurable performance indicators). Make sure that your plan includes a strong focus on increasing your market share (as there is strength in size).
Search This Site
Custom Search
From a marketing and sales perspective, it is important to understand and define market share; this is a necessary activity for businesses that want to grow.
For example, if your business sells $1.5 million of products in your market you need to know if that represents 5% or 95% (or somewhere in between) of the overall market.
Why?
Because it will be much more difficult to grow your share if you already have a significant amount of the market potential and you will need to build your marketing strategies accordingly.
A good analogy for market share is that it is a 'piece of the whole pie' ... with the pie being the market, and the piece of pie being what the business sales represent.
---
Definition of Market Share
How to Calculate Market Share
A more traditional definition of market share is that it is the business' 'share' or percent of the total market.
One of the ways to calculate market share is:
Business Sales Revenue divided by total Market Sale Revenue
For example, if you owned a computer services business, if sales last year were $500,000, and if the total market size was $50,000,000, then the computer market share is 0.1 or 1%. It is fair to say that you are not a big player in the market; from a market perspective, you are not a market leader, you are, by size alone, a market follower.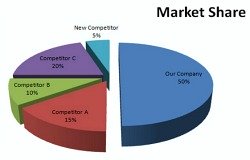 More formally, market share information is calculated by comparing individual business revenues to the total defined market.
The big challenge in either equations or calculations, and in understanding how to increase market share, is in first accurately defining what is market size.
If your total defined market is a country; then the total domestic market is "calculated by adding manufacturing shipments to imports and subtracting total exports." (Statistics Canada) However duplication of manufacturing data in most country statistics can result in a distorted total figure.
---
Define Market Share: More on Research Sources
In some cases, particularly for global markets, you may have to buy some research data to obtain market size information. Usually, however, you should be able to gather the market size information through secondary research, such as:
Industry Canada which is the Canadian government's business and industry site.
The US Department of Commerce site is a good source of information on business in the United States and provides access to economic indicator reports and industry performance data.
Industry or trade associations are also good sources of market size data. For example: Business owners interested in manufacturing and exporting from Canada can access information through the Canadian Manufacturers and Exporters (CME)trade association website. In addition to industry resources, this site also provides a number of publications and reports for entrepreneurs.
There are also many market research sources available on a per fee basis. A couple of those sources are listed below:
---
Defining market size is the first part of the marketing planning process. During marketing planning, you need to segment your market, target your market, define marketing mix and build the marketing mix program, and a variety of other activities.
Understanding what share of the market you have, and want, is only part of your marketing process: you also need to do a marketing SWOT analysis (strengths, weaknesses, opportunities and threats) and to define marketing mix.
Additionally, to define market share for your business, you need to recognize where you fit in the overall market.
Once you understand both market size and your share of the market, you need to learn how to increase market share (or not). Part 2 of Define Market Share will help you to understand why market share is important to your business and how you can manage market share to target business growth.
More-For-Small-Business Newsletter:
For more timely and regular monthly information on managing your small business,
please subscribe here.
Additional Reading:
Understand Competition Analysis and how to manage your competitive tactics.
Conduct an Industry Analysis to learn more about your marketplace.
Build strong Market Strategies to win more market share.
Or for more on how understanding market share will help your business compete, return from Define Market Share, Part 1 to What is Market Share? Part 2.
Why is Product Differentiation a Necessity to your Marketing Plan?
Return to Definition of Marketing.
Or return to More For Small Business Home Page.