What is Guerilla Marketing?
Also known as 'Gorilla Marketing or
Gorilla Marketing Strategy'
What is guerilla marketing? Many consider it a high impact, lower cost marketing tactic. If you decide to use this approach, then make sure you integrate it into your strategy planning. (This tactical marketing approach is also known by some as gorilla marketing strategy.)
Marketing your business effectively, and strategically, is a key element of your success: make sure you do it right.
Search This Site
Custom Search
What is guerilla marketing? Why is it important, and relevant, to small business owners?
Today's definition of guerilla tactics are to strike the market hard, strike fast, get in, and get out. And do not let your competition see you coming.
(The phrase comes from 'guerilla warfare'; the type of in and out tactic used in hostile situations.)
The original term came from marketing author, Jay Conrad Levinson.
It was the title and subject of a book he wrote in 1984.
To summarize his concepts, this approach or marketing tactic focuses on low cost, and fast-to-market, promotions. These marketing campaigns are often highly successful when very specifically targeted.
These marketing mix promotions require marketers with creativity and energy to break down the fairly large and comprehensive task of marketing, and building the right marketing mix, into smaller, more do-able pieces.
---
Some Call It, Mistakenly, Gorilla Marketing.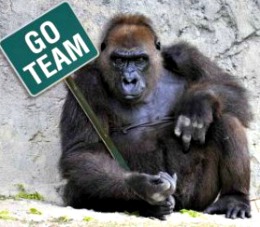 And while marketing of any type or style can seem and feel like a monkey on your back (particularly to non-marketers), guerrilla tactics are really a creative and fast marketing style that is well suited to small businesses - if the organization can mobilize and stay focused on one (rather than many) objectives for the campaign (the very nature of fast, in/out approaches requires a narrow focus for success).
The agility of small business and the ability of small business owners to use decision making tips and problem solving techniques to take quick action, allow this marketing tactic to work well.
Additionally, small businesses are typically much closer to their customers and therefore are more likely to be able to read and translate customer needs into a fast-action, high impact marketing plan.
The very nature of marketing from a tactical guerrilla approach has resulted in a good fit with small business marketing plans.
Small business owners can not afford the big marketing and advertising budgets of big business, but the very entrepreneurial nature of small business owners lends itself very well to guerrilla marketing techniques.
---
Some Key Marketing Tactics that are
'Guerilla' in Approach:
---
Guerilla Marketing is one approach to small business marketing; there are many approaches. It is a marketing strategy that can be very effective, low cost and focus your efforts on quick, creative tactics that help you build a strong marketing mix promotional campaign. However to use this tactic successfully, you need to be very aware of your market, your competitors (and their actions), and your customers (or prospective customers).
This type of marketing is all about being agile and quick and knowledgeable enough to make changes as necessary (because your competitors may be following in your footsteps and you need to be able to stay ahead of them.)
More-For-Small-Business Newsletter:
For more timely and regular monthly information on managing your small business,
please subscribe here.
Additional Reading:
Understand Competition Analysis and how to manage your competitive tactics.
You need to use an effective market research process to segment and target your market.
Use a Marketing Plan Outline to develop an effective strategic direction.
Find out the Importance and Definition of Marketing.
Or return from Guerilla Marketing to More For Small Business Home Page.